Watch
wiseguypictures: Michel Jean-Michel: Overexposed  A candid glimpse into the life of the world's most famous paparazzo. Written and Directed by Giancarlo Fiorentini and Jonathan Grimm. Starring Thomas Middleditch. 
Very exciting news! wiseguypictures: We are incredibly honored to announce that Facebook Ruins Job Interview has been nominated for Best Writing at this year's Webby's! Each category has a People's Choice Award, so please vote for us here!
Watch
wiseguypictures: "Rachel Maddow Grills Local Politician," starring Jon Gabrus and Elaine Carroll.
Watch
wiseguypictures: "Residential Foursquare." Starring Nick Ross. 
Watch
wiseguypictures: Facebook Ruins Job Interview. Starring Jon Gabrus and Dominic Dierkes.
Watch
The first video for Wiseguy Pictures, a new website of videos and comics by me and Jonathan Grimm. It stars Josh Ruben and Heather Cavalet.
False Advertising
I bought a bottle of cranberry juice that said "Contains 15% juice." I sort of felt duped, because I had to buy like five more just to fill it up.
Old Habits
I think I've been single for too long because on Thanksgiving, I asked my grandmother if I could buy her a drink before I started talking to her. I wanted to tell her she looked hot.
Like Father, Or Else, Son
My dad always prided himself on his frugality. Once, I asked if I could have a mirror for my bedroom. Instead, he made my twin brother move into it.
Close Encounters of the Seinfeld Kind
About three months ago while in Los Angeles, Jon and I met with an old friend at the Roosevelt to catch up over drinks. Upon leaving, I thought I recognized a familiar face in the lobby. She was an older woman, probably in her late sixties; an actress I'd seen several times before, but I couldn't place my finger on exactly where. Whereas I'd normally continue on my way unconcerned, something...
Running Joke
I'm such a bad runner, I don't even know where to begin. So I usually get disqualified.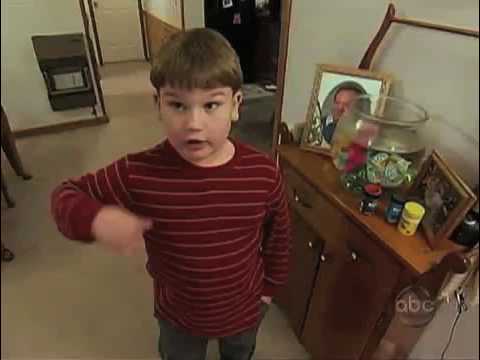 Watch
Lin Manuel Miranda from "In the Heights" came by to star in this Hardly Working with some of "Freestyle Love Supreme." They don't give Tony's away for nothing. 
Watch
Equal parts hilarious and terrifying, "Frat House" is an HBO documentary by a young Todd Phillips that chronicles some utterly insane fraternities during their pledge season. Made in 1998, it was never released due to a lawsuit from those depicted, but is now available in full online. 
"I was in Toronto and went to see "Life is Beautiful" by myself. When..."
– Christian Bale, officially scaring the shit out of everyone.
Music to My Fears
I'm a classically trained pianist. Whenever I made a mistake, my father beat me with "War and Peace."
The Old Man and the Seymour →
Full movie is now online:
Watch
Trailer #2 for "The Old Man and the Seymour." 
Watch
As my senior project at NYU, I co-wrote and co-directed a 30-minute film with Jonathan Grimm, starring Amir and Streeter. It was shot almost a year ago, but is finally going to make its way online very soon. Here's the trailer. 
Watch
If you think this is bad, you should see Jeff during Bleep Bloop. 
Empire Yesterday
I wonder what the thought process was like for the person who invented carpeting. They just stepped out of bed one morning and were like, "Fuck this shit."
An amateur mason was resting near his cottage when it hit him like a ton of bricks: next time, don't forget to use cement.
Brotherly Love
I've always thought of myself as the type that would be "the crazy uncle." So I impregnated my sister.
Watch
"What the FUCK happened in here?!" - Vimeo employee's reaction after walking through the aftermath of this shoot. 
If Neurology was Taught for 12-year-old Boys
"Aneurisms, gentlemen, are like the hershey squirts of brain farts."
Larry David: Waiting for November 4th →
I thought it was really weird when I saw how jacked Carrot Top is, until I found out he does an arm curl each time one of his jokes bomb.
I usually feel uncomfortable when I'm in the bathroom and someone starts using the urinal next to me. The other day, some guy gave me this really weird look and was like, "Are you taking a shit?"
Alec Baldwin Assumes I'm a Coffee Drinker, and I...
Today, Alec Baldwin asked me for some very important advice. What kind of advice could I possibly impart on Alec Baldwin? Some very important advice: where to get a good cup of coffee.  It was around 6pm and I was walking home from work. Nothing seemed out of the ordinary, but like a cat, I suddenly sensed a Baldwin in the area. Being near a Baldwin is a difficult sensation to describe,...
Sad State of Affairs
I'm not sure which headline is more depressing.
Adopted children: the ultimate cougar hunters.
Watch
This was me and Jon's first official Hardly Working, and I think this user comment sums it up best: "I've never felt such a combination of repulsion and intrigue in all my life."
A Manner of Speaking
I don't like "killing time" because it sounds kind of morbid. Instead, I like "living in the moment." For instance, sometimes when I'm bored I'll spontaneously go on a shooting spree. 
"I was involved in an extremely good example of oral contraception two weeks ago...."
– Woody Allen
Looking back, I feel kind of dirty having played doctor as a little kid with my friend Julie. I guess I was just too naive to think about washing the knife before giving her that liver transplant. 
Watch
Before last night, the phrase "Andrea Mitchell attacked by balloons" probably had zero results on Google. No longer so. 
My, Robot
If I ever built an ultra lifelike robot, the first thing I'd teach it is how to do the Robot. Then people wouldn't know what to think. 
I don't know who started the myth that mixing pop rocks and coke will kill you. In me and my friends' experience, the pop rocks are completely unnecessary. 
Watch
This is an old sketch I co-wrote and directed with Jon Grimm. It's part of a project called The Experiment, which we made for a class two years ago while at NYU. One of the other sketches can be seen here, with Streeter Seidell as The Doctor. 
Bruce Vilanch Receives a Prostate Exam
Watch
I was lucky enough to attend this show at Other Music. Watching someone I'd previously seen perform at Radio City in this way was definitely a treat. Here's a better video by someone else of the show.
How Most Conversations with my Dentist Usually Go
Dentist: (cleaning my teeth) Some beautiful weather we're having, huh? Me: Ahhra uhahh. Dentist: I'll say. Hmm, it looks like you're having a little trouble reaching those wisdom teeth. How often do you floss? Me: Ahhrahh rahh uhah ruahh. Dentist: Do you use a soft bristle toothbrush? Me: Ahhrah uhrah rah. Dentist: And what's the sound a walrus makes? ...